Swivel Chairs Snuggler Cuddler Loveseats
Fabric & Leather Swivel Snugglers
Whatever you like to call your new swivel seat you can be sure there will be plenty of room for relaxing in comfort. These oversized swivel chairs or compact sofas have become increasingly popular over the years. They are found under various descriptions depending on where you shop. Look out for swivel styles in the range of snuggler sofas, cuddle chairs and loveseats.
Swivel Seats in a Choice of Fabrics
Swivel Snuggler and Cuddler chairs
---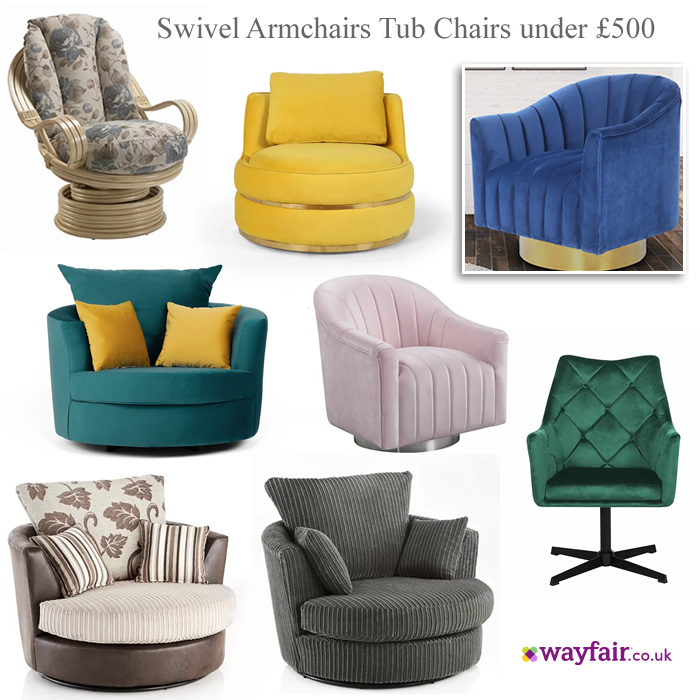 Swivel Armchairs Tub Chairs and Rocker Chairs under £500
Find swivel armchairs under £500, rocker chairs and tub chairs for bedroom, living room, home office and conservatory. At Wayfair, there is a wide range of swivel chairs including blue, teal, green, yellow, beige, grey and multi-pattern fabric
Novelty Chairs & Children's Sofas
---
Cuddle Chairs and Velvet Love Tubs
Stores such as  John Lewis and Laura Ashley have a range of snuggler armchairs whereas Oliver Bonas has velvet and cotton Love Tubs. While Barker & Stonehouse not only have loveseats, but snugglers and cuddle chairs too! Not all snugglers and loveseats have a swivel action, you will find extra-large armchairs and spacious round chairs in a range of colours, fabrics and leather. In addition to twister style seats that are fun and comfy too.
Oversized Armchairs on a Swivel Base
Your generously sized swivel base snuggler is sure to be the focal point of your living room. Styles vary between designers but one of the most popular shapes to emerge just recently is the circular swivel love seat. We are seeing more rounded swivel chairs that offer not only a high level of comfort but bring a soft modernistic edge to your living space.
Fun Modern Swivel Chairs
Buying one of these unique swivel armchairs can revamp the look of a room without having to change too much else. An accent chair does not have to match existing furniture that is why it is so exciting when it comes to choosing the colour and fabric. Choosing from soft velvety fabrics, sumptuous cushioned seats and luxurious leather finishes is down to personal preference and allows you to introduce a visual impact into your home.
You can go as bold as you dare or tone down depending on the mood you wish to create. Natural shades such as oatmeal, mocha and ivory are so versatile and can contrast easily with most interiors. Just add a splash of colour with contrasting cushions.
Reclining Swivel Rocking Chairs
There's a great selection of different style chairs on offer when it comes to solving seating requirements. There are swivel, recliner, rocking and easy chairs plus seats that combine swivel and electric or manual reclining mechanisms. So in addition to traditional style love seats, and standard snuggler sofas there are also seats that do a whole lot more.