Eleanor Sofa Range
Bring a touch of style to your living room without taking up too much space with this compact two-seater. New arrivals include this classically styled small sofa that's part of the Eleanor sofa range also consisting of medium and large sofas, storage footstools, armchairs and sofa beds. Designed with a country house feel makes this range perfect for traditional interiors.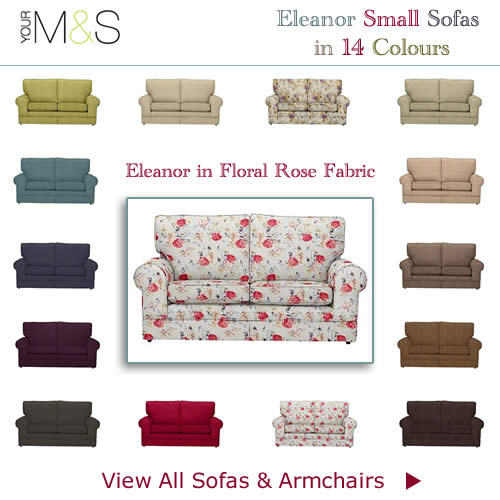 14 Colour Combinations
Be inspired by the traditional and contemporary designs available at M&S and give your home a quick makeover. Whether it's a complete three piece suite, chaise longue or just an occasional chair you're after creating a new look is easy. The Eleanor small settee comes in 14 fabulous colours in a great mix of designs and materials. Matching existing decor and upholstery will be a breeze with delightful summery hues and new season shades.
Matching footstool and Sofa Bed
When space is premium you don't want too much clutter in a room so what better way to keep things neat and tidy than a matching storage stool. This clever piece of furniture not only has plenty of storage inside it acts as an extra seat and comfy footstool. Another great space saving idea is a sofa bed. The Eleanor medium sofa bed is ideal for studio apartments, spare rooms or wherever you require a quick put up bed for unexpected guests.
you may also like…
Eleanor Small Sofa Details:
H89 x W151 x D95cm
Seat: H47cm
Feet solid hardwood with a medium finish
Frame made from solid hardwood
Fabrics are treated with Stain-Defense ™
Fabric names and colours available:
Kingsley
100% polyester, Slate
Floral
30% cotton 70% polyester, Lilac, Rose
Matisse
45% acrylic 41% polyester and 14% cotton, Red
Meridan
43% acrylic 42% polyester and 15% cotton
Mocha, Dark Brown, Plum, Teal, Stone
Santana
100% polyester, Green, Cream
Tahoma
100% polyester, Light Brown, Charcoal, Light Olive