Chic up your living room with this cool looking snuggler chair from John Lewis. You'll have plenty of room to relax on the comfy foam cushion seat and as the name suggests two can snuggle up together too.
The boxy-shaped design works well with other modern contemporary furniture and the neutral colour blends well with just about everything. The nude shade is very much in fashion this season as far as clothes go and have always been a popular choice for the home furnishings.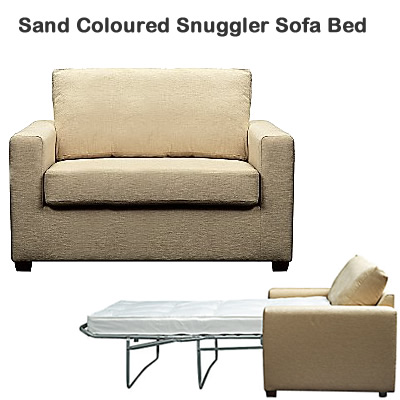 Sofas & Armchairs Offers
Leather & Fabric Snuggler Chairs
Outdoor Table and Chairs Patio Sets
The minimalist design and natural colour snuggle chair speak volumes when it comes to style and brightens a room effortlessly. Modern love seats in single tone shades such as sand, taupe, cream and beige are very versatile when coordinating with other pieces.
This Snuggler from John Lewis is no ordinary love seat it is a neat sofa bed too and is part of the Ravel range. The collection consists of a Grand Sofa Bed, Grand Sofa, Medium Sofa, Small Sofa and armchair.
Other Styles you may like…
Key Features of the Ravel Snuggle Chair
Style: Snuggler Sofa Bed
Brand: John Lewis
Dimensions: H91 x W124 x D91
Predominantly Hardwood Frame
Hardwood Feet
Firm Foam Seat
Fibre Filled Back Cushion
Filling: Foam and Fibre
Furniture Range: Ravel
Material: 41% polyester, 45% acrylic,14% cotton
Colours Available: Sand, Brown, Grey and Red