With spring just around the corner, there has never been a better time to brighten up your home. Take a look at the fabulous range of eclectic furniture for the latest styles and a touch of 1960's chic. We love retro style furniture that adds a splash of design creating an interesting living room with plenty of character. You'll find luxurious velvet pieces and brightly coloured upholstery in various fabrics plus aged leather sofas and armchairs.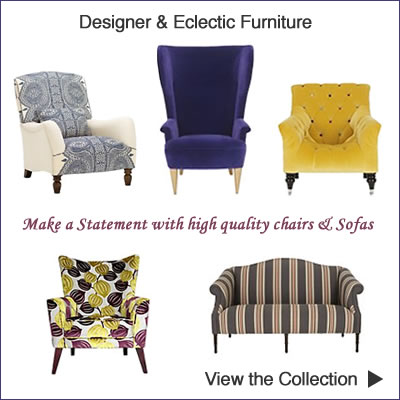 Home & Garden Offers
Shop Small Sofas Under £400
Loveseats Sofa Beds Armchairs Sofas and Dining Room Chairs
Styles in the Eclectic range offer colour and unique designs to liven up a bland interior scheme. Occasional armchairs, snugglers and love seats can be used as stand-alone pieces that are unique to the rest of the furniture. They make great focal points and can easily be used to change the look and feel of a room.
Add a splash of colour with a bright yellow, rich green or red accent chair or simply go for subtle shades of silver or beige. For a touch of magic, Alice in Wonderland style chairs is great fun.
you may also like…
Chair upholstered in rich purple velvet and exaggerated wing back and petite arms. Unusual pieces make a great focal point and will be the talk of your friends. Accent chairs work well in any setting from the bedroom, boudoir to hallway, dining and living room.