Elegantly Shaped Seating
Go a little retro crazy and add a fun element to a room. Novelty chairs are perfect when you are looking for a quirky touch especially in a colour pop hue. Bright cherry red will brighten your living space and the unique shapes will bring a smile to your face. Combine uplifting shades in accessories to complement existing decor. Check out the latest eclectic styles in armchairs, sofas and chairs including playful seats for children.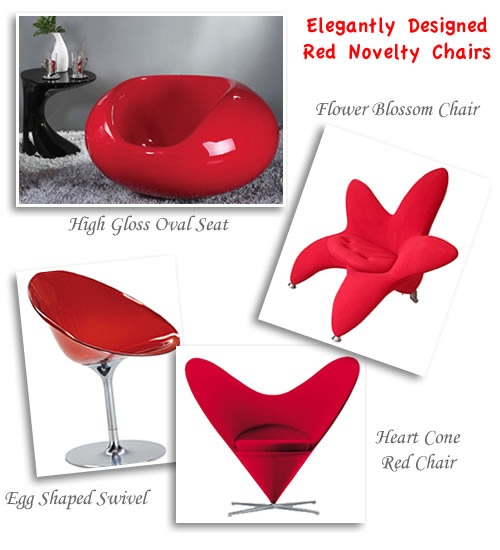 Heart Cone Red Wool Chair
From hearts, cones and flowers to egg-shaped seats and funky bar stools the extensive range of novelty chairs is endless. A style and shape are suitable for any room, office, children's room and garden. For an elegant vibe, the Vitra Heart Cone Chair by Verner Panton gives an extravagant appearance while being surprisingly comfortable too. Features include a pointed base which is swivel mounted, large curved wing back design and stainless steel feet. Available in red, black, green, blue and yellow wool.
Retro Loveseats and Sofas
Whether you live in a contemporary flat or traditional home make a statement with a piece of retro furniture. It doesn't have to cost the earth or take over the room to give some character. Heal's, Barker & Stonehouse and Furniture in Fashion have a great choice of high quality, designer and cheap living room furniture. Eclectic and vintage sofas can also be found at Made and Homes Direct where you will find French style armchairs, chaises and settees.
Fun Kids Chairs
An exciting collection of children's chairs has emerged over the years to bring an eclectic mix for all ages. Girls will love the Stiletto Shoe Zebra Print Chair and the lip sofa while the boys can chill out in one of the football or pod chairs. There's plenty for toddlers too with bean bags, mini sofas and pink princess crown chairs.