Get a fresh new look for summer and brighten up your living area with this gorgeous-looking loveseat. This oversized chair in vibrant red has a contemporary style that will certainly make a stunning focal point in any room.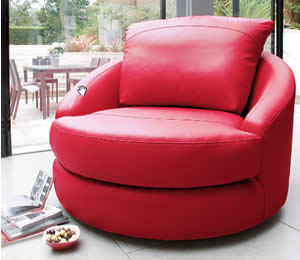 no longer available
For the not so bold there is a choice of two other colours: chocolate and black which should easily contrast with more traditional décor. This roomy chair will transform a room and give it a modern twist to the overall appearance. First-time buyers looking for new furniture with a modern edge will love the eye-catching colour and design.
You may also like these snuggle chairs
The look and feel of the faux leather add to the appeal and makes it a more affordable option to real leather loveseats. Buying extra chairs or statement pieces of furniture like this cuddle chair as it likes to be called is the answer and perfect when extra seating is required.
We love this cuddle chair made for two and best of all is its fun swivel feature. The Barbarella chair from Great Universal fits 2 people for a cuddle or gives one plenty of room to relax all by their self.
Features of the Metropole Barbarella Chair
Swivels 360°
H 98, W 117, D 133cms approx
Black, chocolate or red
Faux Leather