Button Back Two Seater Petite Sofas
Based on the 1941 Finn Juhl design that is as popular now as it was many years ago. The Danish architect originally designed the Poet sofa for his own home; creating a timeless design that is much loved today. Elegantly sloped back and slim arms envelope you whilst the thickly padded seat adds the ultimate in comfort. It's not hard to see the attraction of this truly magnificent work of art beautifully designed for all to enjoy. Along with curved lines there's retro angled oak legs too adding to its charm. Poet sofas at myfurniture.com come in many colour combinations with colourful button back designs and contrasting cushioned seats.
Poet Sofa Range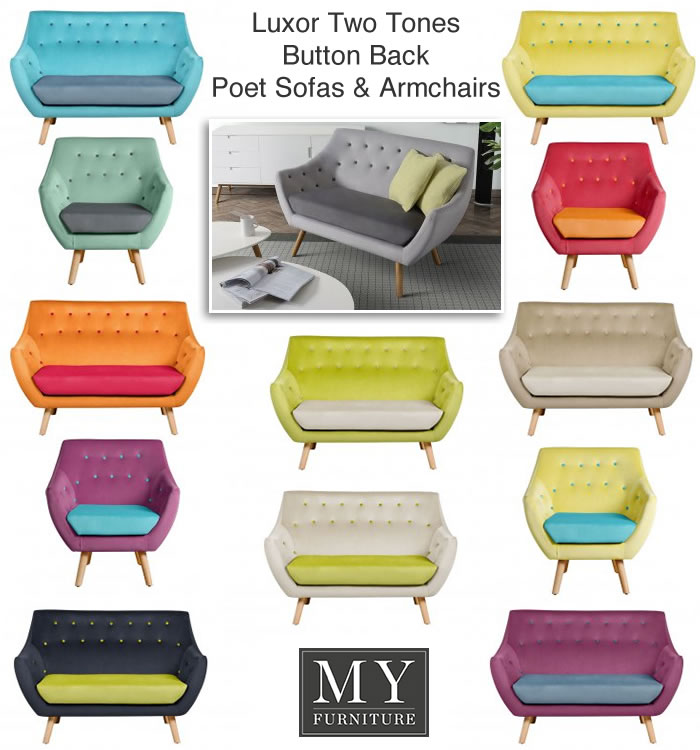 Petite Sofas & Loveseats
Retro, French and Modern Grey 2 Seater
Button Back Velvet Sofas under £300, £400, £500, £600
Poet Sofas and Retro Chairs
The timeless design of the two seater loveseat Poet sofa will make a great focal point in your home. Suitable for modern and traditional interiors as well as contemporary ones. Quality reproduction of classic Danish furniture brings a range of iconic pieces into your living space. Mix and match with coordinating colours or keep the theme simple. The dimensions of the Poet sofa is H 88 cm x W 134.5 cm x D 79 cm. The snug two seater also makes a roomy chair for one, perfect for placing in your favourite spot. Petite sofas are also ideal for bedrooms, hallways and smaller rooms where larger sizes will not fit.
Petite Poet Sofa Eclectic Loveseats & Chairs
Two Tone Sofas and Matching Armchairs
A designer masterpiece in the shape of the skilfully upholstered Poet sofa is sure to please. Not everyone has the space to house a large sofa. Far better to balance the look of a room with two small sofas with armchairs to match. More importantly is the versatility of smaller items of furniture which can be positioned in the best possible place. Single shades include teal, olive, orange, silver, midnight navy, cranberry, chalk, lime, mulberry, jade and grey. For an eclectic touch there are two tone retro sofas with different coloured seats that match the buttons on the back.