Riveria Garden Day Bed & Canopy
Make the most of your garden in the summer with a fabulous day bed. Riveria Day Bed from the Garden Furniture Centre is the perfect way to relax and has many uses. This versatile piece of outdoor furniture provides many functions from full sun lounger and day bed with overhead shade to a garden sofa with matching footstool plus cushion and toy storage.
no longer available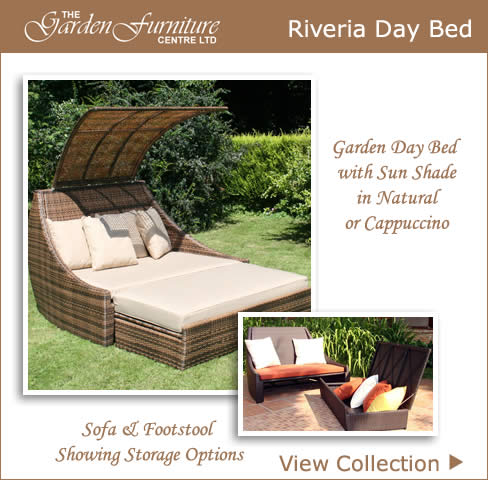 Ecolene Outdoor Rattan Weave
There's a growing trend nowadays to use more of our outdoor space so what better way than investing in quality all weather material such as rattan. The Riveria Day Bed is crafted from one of the finest materials and comes with a three-year warranty. Ecolene outdoor rattan weave is built to last, is insensitive to temperature change and will maintain its colour despite being exposed to strong summer sunshine and harsh winters. Rain resistant too makes it ideal for British summers!
Sofa Beds, Swing Seats & Swivel Day Beds with Parasol
More style garden beds can be found to suit your lifestyle and area space. The 2 seater Saturn Day Bed with parasol hole is a new arrival for 2011. This unique style has a hole in the bed and cushion for the sunshade to fit. A table can also be secured to the parasol so you can relax in style with drinks on hand. Outdoor daybeds and swing seats for two are very comfortable and are perfect for stretching out in the sun.
you may also like…
Rattan Garden Furniture Dimensions:
Sofa height: 106cm
Canopy height: 164cm
Sofa Width: 153cm
Full depth: 183cm
Sofa Depth: 123cm
Footstool width: 133cm
Footstool depth: 68cm
The Riveria Day Bed is available in cappuccino 6mm flat weave or natural rattan 3.7mm Ecolene weave