If you are searching for a seat for two that doesn't take up much room you won't necessarily find them under loveseats. There seem to be more descriptions for Loveseats than ever.
We have found them called a Cupid Chair as shown here, a Snuggler Chair and a Cuddle chair. I suppose the romantic connotations are the same with images of two people snuggled together on their oversized chair.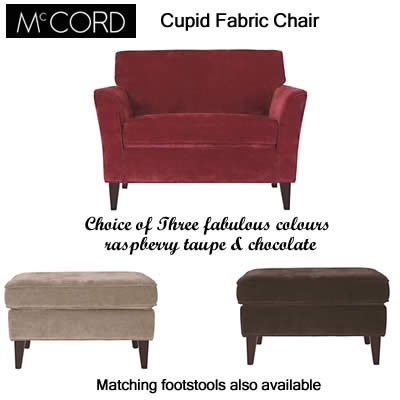 view more sofas and chairs
This oversized occasional chair is cosy and comfy with a fixed foam seat cushion and fixed fibre filled back cushion. Minimal assembly is required with just the wooden feet to attach. The small two-seater loveseat measures approx H 90, W 118, D 84cm.
There is a matching footstool available to buy separately in a traditional style as shown above. You can choose from three great colours to blend with existing furniture: Chocolate, raspberry or taupe.
you may also like…