Cargo Sofas and Armchairs
A sumptuous furniture collection awaits at Cargo in a variety of shades to suit your home decor. The contemporary style of the cuddler seat is perfect for today's modern homes. Choose from brown, mink, natural, plum and grey to complete the desired look to match existing pieces or create a totally new look.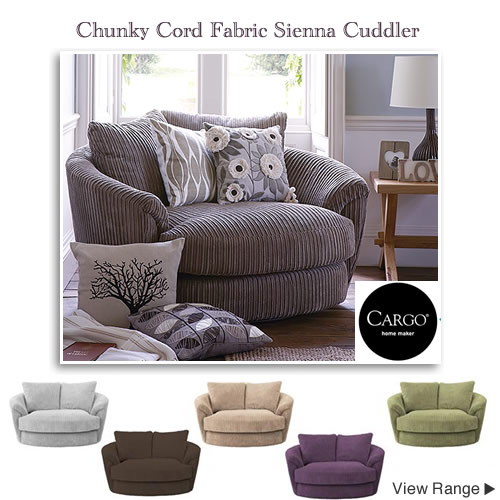 Snugglers, Loveseats and Cuddle Armchairs
However, you describe these wide armchairs you know you can enjoy a comfortable and supportive seat. With extra room to relax it will be everyone's favourite chair to lounge in. Its generous proportions and super stylish finish offers comfort to match its looks. Add a burst of colour and complete with fabulously crafted cushions available in a myriad of shades and patterns.
Luxury Cord Fabric
The luxurious chunky cord fabric of the Sienna range adds a trendy touch that will appeal to many looking for something different. Features deep filled fibre and foam seats for the ultimate in relaxation. The Cargo Homeshop is a great place to shop especially for new homeowners wanting to add those little extras and finishing touches. There's plenty to inspire that won't stretch your budget.
Fabric loveseats…
Upholstered Corner Groups
For a living room refit, the Sienna range offers a full selection of styles from armchairs to corner groups. Products include standard size armchairs and settees, footstools, armless chairs, left and right-hand armchairs, 2 seaters, chaise end and corner sofa sections to make up the corner suite to suit any room shape. You'll also find affordable sofa beds to fit your living space too.