Everyone can have their favourite loveseat including the kids. These two fun swivel chairs are perfect for relaxing reading a book, watching movies, playing video games and listening to music. Creating the ultimate place for boys and girls to spend time with friends is easy with the great selection of children's chairs and sofas on offer.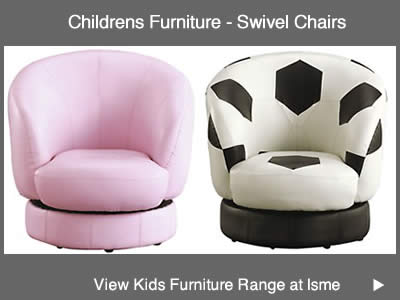 no longer available see styles below
Boys, in particular, will love watching the big match in their Football Swivel Chair. The easy-care fabric is printed to look like a football and arrives ready assembled. It has a heavy duty swivel chair base and measures H: 71cms W 74cms D 69cms (approx).
Not to leave out the girls can enjoy sitting back in their own trendy Pink Swivel Chair. The dimensions are the same as the football print chair and are delivered ready to use. The versatility of the swivel base lets them effortlessly change position from TV to you!
  More Fun Chairs for Kids!…
These children' s chairs are made from high-quality fabric and are easy to care by just wiping with a cloth. They are great gift ideas for kids, especially at Christmas. All things pink is still a top choice for girls especially the younger age group. Today you can buy pink TVs, pink toys and bedroom furniture along with other brightly coloured and stylish kids chairs. Other styles include kids rocking chair bed, kids cubic armchair, recliner and chaise lounge.