Homes Direct French Style Seats
Spread the love throughout the home with expertly crafted furniture from Homes Direct. For a touch of nostalgia, the latest range of antique French love heart chairs will add beauty and style to a corner of any room. Stunning designs include bedroom chairs with antique silver and white frames beautifully finished in an array of plain and pattern fabrics. Choose a colour to refresh existing decor with deep pink, red, purple, black and ivory or create a focal point with a trendy black and white zebra pattern.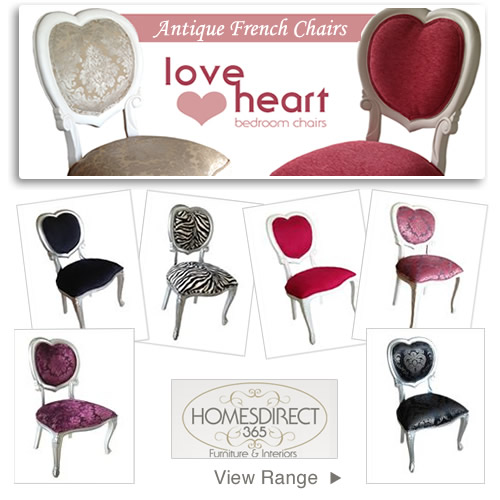 Loveseats For the Bedroom
Hand-carved from the highest quality materials and lovingly finished makes the love heart chair a must-have piece for the romantic. Numerous variations open the way for many different themes. An inviting collection of chairs that work alone or along with other items in the Paris, Rococo or La Rochelle bedroom range.
La Rochelle Silver Collection
Take a step back in time with one of Home Direct's most popular collections, the La Rochelle Silver. 18th-century design features include elegant curves, intricate ornate decoration and antique silver finish. A breathtaking style winner that can easily be coordinated and mix and matched with similar collections.
French seating we love…
Matching Love Heart Side Table
For a decorative touch that is functional as well as chic comes in the shape of a quaint love heart side table. Part of the Rochelle range in antique white, the shapely side table displays smooth curves with a hinged top that opens for handy storage. Set off a corner of a room or place with the complete bedroom set for the perfect French boudoir feel.
Home Accessories Sale and Discounted Furniture
Simply adding a gorgeous piece of furniture can transform the look and feel of any room. Best of all it doesn't have to cost too much at Homes Direct. Low price sofas, armchairs, chaises and home accessories make it easy for a quick makeover whatever your budget. View items on the sale page for today's bargains and discounted furniture.