Elegant Curved Sofas & Chairs
Add a romantic touch to any room in the house with beautiful matching furniture and accessories from Homes Direct 365. Here you will find complete collections inspired by elegant designs from France. Ornate loveseats, hand-carved sofas, antique french style chairs, chaises, tables, cabinets and more will set the scene of a bygone era.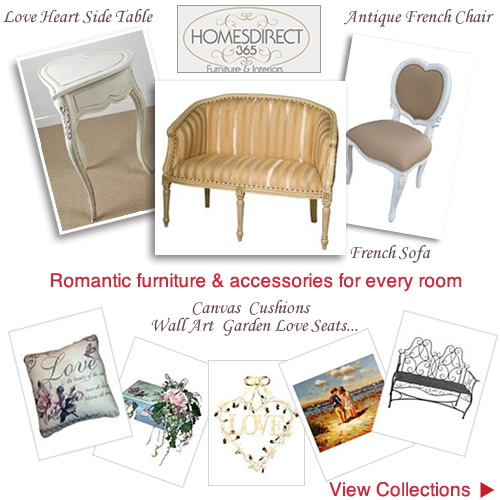 Regal French Lounge Furniture
At Homes Direct 365 you'll find the finest reproductions that capture the mood of different times in French history. Whether you choose to transform a room or want to make an impact with a unique piece of french style furniture you can take your pick from many themes.
Design your home in a style taken from the Renaissance period, Louis XIII, Baroque, Regency, 18th century Rococo or Neo-Classical with Louis XVI. These timeless collections will enhance your home and give you years of pleasure.
you may also like…
Indoor & Outdoor Love Seats
The journey continues to bring a more updated look with contemporary and traditional furniture on offer. Sophisticated designs with exotic new finishes, practical pieces and ornaments for inside and outside the house feature up to date looks made to the highest standards.
French Garden Furniture
An Indoor and outdoor love seat or garden patio bench make a striking focal point but not to be overlooked are the fabulous accessories at Homes Direct. Wall art and decorations, canvas paintings, cushions, gold frame mirrors, garden figurines and sculptures add a fun element and make the surroundings so welcoming.